by Reihan Salam via The Daily Beast.com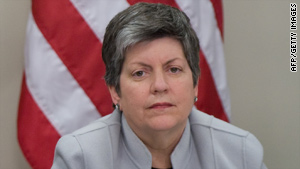 The DHS secretary will likely survive her "the system worked" flub. The real damage, Reihan Salam says, is to Democrats' 2010 chances now that the GOP has a new opening for white voters.
Of all President Obama's cabinet members, Janet Napolitano was until recently a good bet for the most likely to succeed. As the popular Democratic governor of Arizona, long considered a deep-red bastion of Goldwaterite conservatism, she had already demonstrated tremendous political prowess. Indeed, she was touted by many as a potential running mate for Obama or as a giant-killer who could defeat John McCain in a Senate race. As a tough prosecutor during the Clinton years, she had a pitch perfect resume for a New Democrat: tough on drug dealers, but also tough on white-collar criminals. And as governor of a state that includes a large Latino population and more than a few rock-ribbed right-wingers, she was also unusually good at finessing the always-tough issue of border security.
That is undoubtedly why the president named her as his pick for the thankless job of heading the bureaucratic ass-covering monstrosity we like to call the Department of Homeland Security. Looking ahead to 2010 and 2012, the White House had good reason to expect that immigration reform would be the issue to watch, and there was no better choice than a tough-as-nails, super-competent border state governor to mind the store. But then came the case of the explosive underpants.
Filed under: Crime • Larry King Live • Politics • President Obama