Dr. Conrad Murray, the physician at the center of the homicide investigation into singer Michael Jackson's death, has resumed his practice.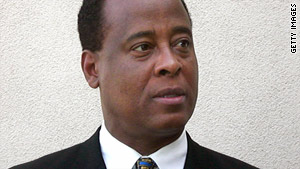 Murray returned home to Houston, Texas, and was treating patients at the Armstrong Clinic where he practiced medicine before leaving to become Jackson's personal physician in April.
"I'm taking my life back step by step, and I wanted to come home and this is my home," he told congregants Sunday at the Galilee Missionary Baptist Church in northwest Houston. "And therefore, I am back to serve," he said, his eyes hidden behind a pair of sunglasses and his voice quivering. "This isn't easy for me. Mentally it's tough."
In a letter to CNN affiliate KPRC in Houston, Murray's lawyer said the physician returned to work out of a financial necessity.
"Because of a deteriorating financial condition and prompting by many of his beloved patients, on Nov. 20, 2009, Dr. Conrad Murray resumed his cardiology practice in Houston, Texas," said lawyer Ed Chernoff.
Chernoff added that Murray planned to attend to patients in Las Vegas as well, but the cost of reopening his clinic there was "prohibitive."
Murray told church members he saw 16 patients Friday, and each encounter was twice as long as a regular appointment because patients wanted to know how he was doing. As he spoke, the church attendees stood and cheered. Later, they posed with him for photographs.
Filed under: Michael Jackson