Rhode Island's top Roman Catholic leader has asked Rep. Patrick Kennedy to stop taking Communion over his support for abortion rights, the diocese said Sunday.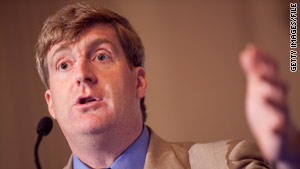 In a statement issued Sunday, Providence Bishop Thomas Tobin said he told Kennedy in February 2007 that it would be "inappropriate" for him to continue receiving the fundamental Catholic sacrament, "and I now ask respectfully that you refrain from doing so."
Kennedy, a Democrat, is the son of the late Massachusetts Sen. Edward Kennedy and a scion of the most prominent Catholic family in modern U.S. politics.
In an interview published Sunday, Patrick Kennedy told the Providence Journal that Tobin had barred him from receiving communion and instructed priests in the diocese not to administer the sacrament "because of the positions that I've taken as a public official."
Tobin, in a statement issued in response to the Kennedy interview, said his advice to the congressman was "pastoral and confidential," and he was surprised that Kennedy chose to discuss it publicly. "I am disappointed that the congressman would make public my request of nearly three years ago that sought to provide solely for his spiritual well-being," he said.
Filed under: Kennedy • Religion