by Hanna Rosin via The Atlantic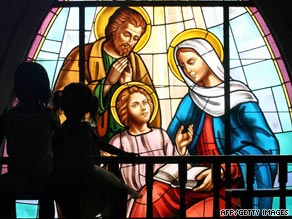 America's mainstream religious denominations used to teach the faithful that they would be rewarded in the afterlife. But over the past generation, a different strain of Christian faith has proliferated—one that promises to make believers rich in the here and now. Known as the prosperity gospel, and claiming tens of millions of adherents, it fosters risk-taking and intense material optimism. It pumped air into the housing bubble. And one year into the worst downturn since the Depression, it's still going strong.
America's churches always reflect shifts in the broader culture, and Casa del Padre is no exception. The message that Jesus blesses believers with riches first showed up in the postwar years, at a time when Americans began to believe that greater comfort could be accessible to everyone, not just the landed class. But it really took off during the boom years of the 1990s, and has continued to spread ever since. This stitched-together, homegrown theology, known as the prosperity gospel, is not a clearly defined denomination, but a strain of belief that runs through the Pentecostal Church and a surprising number of mainstream evangelical churches, with varying degrees of intensity. In Garay's church, God is the "Owner of All the Silver and Gold," and with enough faith, any believer can access the inheritance. Money is not the dull stuff of hourly wages and bank-account statements, but a magical substance that comes as a gift from above. Even in these hard times, it is discouraged, in such churches, to fall into despair about the things you cannot afford. "Instead of saying 'I'm poor,' say 'I'm rich,'" Garay's wife, Hazael, told me one day. "The word of God will manifest itself in reality."
Many explanations have been offered for the housing bubble and subsequent crash: interest rates were too low; regulation failed; rising real-estate prices induced a sort of temporary insanity in America's middle class. But there is one explanation that speaks to a lasting and fundamental shift in American culture—a shift in the American conception of divine Providence and its relationship to wealth.
In his book Something for Nothing, Jackson Lears describes two starkly different manifestations of the American dream, each intertwined with religious faith. The traditional Protestant hero is a self-made man. He is disciplined and hardworking, and believes that his "success comes through careful cultivation of (implicitly Protestant) virtues in cooperation with a Providential plan." The hero of the second American narrative is a kind of gambling man—a "speculative confidence man," Lears calls him, who prefers "risky ventures in real estate," and a more "fluid, mobile democracy." The self-made man imagines a coherent universe where earthly rewards match merits. The confidence man lives in a culture of chance, with "grace as a kind of spiritual luck, a free gift from God." The Gilded Age launched the myth of the self-made man, as the Rockefellers and other powerful men in the pews connected their wealth to their own virtue. In these boom-and-crash years, the more reckless alter ego dominates. In his book, Lears quotes a reverend named Jeffrey Black, who sounds remarkably like Garay: "The whole hope of a human being is that somehow, in spite of the things I've done wrong, there will be an episode when grace and fate shower down on me and an unearned blessing will come to me—that I'll be the one."
Filed under: Larry King Live