A picture began to emerge Thursday of the suspect in the Fort Hood shootings as a mental-health professional who had worked to help others in high-stress situations.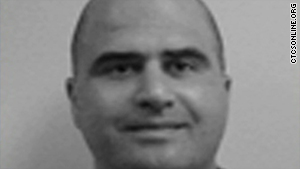 The alleged gunman was identified as Maj. Nidal Malik Hasan, 39, military officials said. Hasan's office at the base's Darnall Army Medical Center is about a mile from where the shootings occurred.  Though it was previously reported he was dead, officials reported late Thursday he was alive, wounded and in stable condition.
Staff Sgt. Marc Molano, currently based at Fort Knox, Kentucky, told CNN he was treated by Hasan for post-traumatic stress disorder while at Walter Reed Army Medical Center in Washington earlier this year.
"Dr. Hasan provided me with nothing but the best care," Molana said. "He was a very well-mannered, polite psychiatrist, and it's just a shock to know that Dr. Hasan could have done this. It's still kind of hard to believe."  Molano described him as "far and away one of the best psychiatrists I ever dealt with."
A soldier who served two tours in Iraq and is awaiting medical retirement for chronic PTSD and severe mental disorders called Hasan "a soldier's soldier who cared about our mental health."
But, he added, "Hasan hears nothing but these horror stories from soldiers who come back from Iraq and Afghanistan - just hearing it I'm pretty sure would have a profound effect."
Filed under: Breaking News • Crime