From NY Times' Maureen Dowd
I had a four-hour dinner once with Rush Limbaugh at the "21" Club in Manhattan, back in the days when I was still writing profiles as a "reporterette," to use a Limbaugh coinage.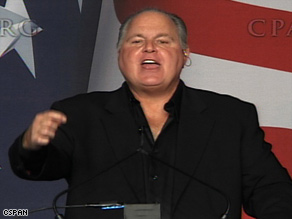 He was charming, in a shy, awkward, lonely-guy way. Not a man of the people. He arrived in a chauffeured town car and ordered $70-an-ounce Beluga, Porterhouse and 1990 Corton-Charlemagne.
But he was not a Neanderthal, though he did have a cold and blew his nose in his napkin. He talked about Chopin's Polonaise No. 6, C.S. Lewis and how much he loved the end of the movie "Love Story."
In those days, he called himself a "harmless little fuzzball." He's a lot less harmless now. I went on to columny, as my pal Bill Safire called it, and Rush went on to calumny.
As he and Sarah Palin conduct their auto-da-fé of moderate Republicans — "Moderates by definition have no principles," he told his radio audience on Monday — Limbaugh is more than ever the face of his party, as Rahm Emanuel said.
He's also the mouth.
Limbaugh is right that Democrats tend to dither too much. They're always wondering if they're doing the right thing, indulging in on-the-one-hand, on-the-other paralysis by analysis, seeing, as James Carville put it, "six sides to the Pentagon."
Filed under: Maureen Dowd • Rush Limbaugh