In case you missed it last night, we had a great debate on the safety of eating meat, and the dangers of E. coli.  Guests Bill Marler, an expert on food borne illness litigation, and Patrick Boyle, Pres. of the American Meat Institute, continue the debate today on the blog:
From Bill Marler: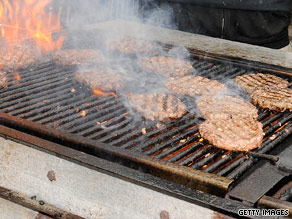 It was an honor to be on Larry King. E. coli in meat is an incredibly important and complex issue, and I'm glad we were able to start a discussion about it. Because there isn't time on a fast-pasted interview show to get into the nitty gritty of how to accomplish a safer meat supply, here are my suggestions:
Short Term
1. The President must appoint an Undersecretary for Food Safety now whose sole mission is safe food. The Undersecretary should, and needs to be the responsible person within the FSIS on this important issue, advocating and making decisions solely on behalf of public health. That person and staff should spend time with Stephanie Smith and the family of Abby Fenstermaker.
2. Provide tax breaks for companies that push all types of food safety interventions, including vaccines, irradiation and employee training. Greatly expand traceability of high-risk meat products and work directly with the big retail chains to lessen price pressure on manufacturers.
3. There are too few legal consequences for sickening or killing customers by selling contaminated food. We should impose stiff fines, and even prison sentences for violators, and even stiffer penalties for repeat violators.
(Read Mr. Marler's full opinion here)
-----------------------------–
From Patrick Boyle
President of the American Meat Institute

In the wake of extensive news coverage of food safety broadly, and beef safety in particular, I was glad to be part of the panel discussion on meat safety on Larry King Live.
As I mentioned last night, the U.S. beef industry has a single-mindedness of purpose: to produce beef that is as safe as it possibly can be because this benefits our customers, our families and our businesses. We are selling a fresh product, however, and fresh products by their nature can contain germs. That's why AMI is committed to providing consumers the information that they need to handle ground beef safely, such as:
* A dedicated Web site www.MeatSafety.org
* A brochure detailing food safety progress titled "Meat and Poultry Safety."  To download CLICK HERE.
* A brochure detailing key safe handling practices, also available for download at http://www.meatmattersinfo.org/.
* A short, two-minute consumer video about why hamburgers need to be cooked thoroughly.  CLICK HERE to view.
While the segment was no doubt emotional and difficult at times, it offered a format for me to discuss the industry's efforts to attack this challenging and complex problem. That being said, I am glad I have this opportunity to reinforce the statistics and progress I mentioned on the program last night.
(Read Mr. Boyle's full opinion here)
Filed under: LKL Web Exclusive