A brand new song by Michael Jackson was released on the late singer's Web site early Monday.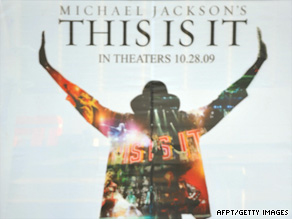 However about 45 seconds of "This Is It" did the rounds online Sunday after being leaked ahead of its scheduled release on Michaeljackson.com.
"This Is It" will be followed by a two-disc album with the same title on October 26.
The album features music that inspired the film "Michael Jackson's This Is It," which is scheduled for release October 28.
The album's first disc features some of Jackson's biggest hits, arranged in sequence as they appear in the film. The disc ends with "This Is It," which includes backup vocals by The Jacksons. Do you think this new release has come too soon?
Disc two offers previously unreleased versions of some of the artist's classic tracks.
The song will play at the close of the film, which will feature Jackson's career highlights and last rehearsals, his publicists said.
Filed under: Entertainment • Michael Jackson