After a tiff that has lasted two weeks, the mayor of Newark, New Jersey, said Wednesday that he is in discussions with "Tonight Show" host Conan O'Brien to "bury the hatchet and the feud."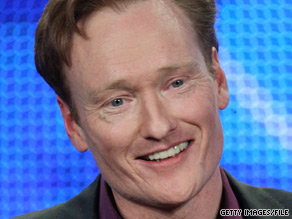 Mayor Cory Booker made the announcement on Wednesday's "Larry King Live" about the disagreement that started with a jab by O'Brien at the expense of New Jersey and continued into what O'Brien has called - tongue in cheek - "the biggest scandal in the country that's now involving a late-night host."
On September 23, O'Brien joked on his program that Booker's plan to improve citizens' health care in New Jersey's largest city "would consist of a bus ticket out of Newark."
The mayor fired back on YouTube, saying O'Brien was no longer welcome at Newark Liberty International Airport. "Try JFK, buddy," Booker quipped in a video that has garnered thousands of page views.
Booker said Wednesday that "Newark has now shown itself that it's not going to allow itself to be picked on by late-night talk show hosts."
Filed under: Conan O'Brien • Entertainment • Larry King Live