Videotapes secretly recorded by John Travolta's attorney were played Monday at the trial of two people accused of trying to extort millions of dollars from the actor after his son died in the Bahamas in January.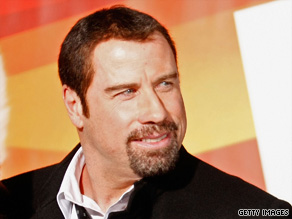 The videotapes showed what Travolta's attorney said were negotiations between himself and one of the defendants, with discussions centering on a document the suspects claimed could reflect unfavorably on Travolta's actions after his son was found unconscious.
Defendants Tarino Lightbourne, a paramedic, and former Bahamian Sen. Pleasant Bridgewater are on trial on charges they plotted to extort $25 million from Travolta after 16-year-old Jett Travolta died from a seizure.
Travolta attorney Michael McDermott testified Monday that he assisted police in a sting.
As the videotape was played Monday, McDermott described it as depicting a meeting in a hotel room between himself and Bridgewater, who said she represented Lightbourne. Bahamian police had placed wireless microphones on McDermott and hidden two cameras in the room, McDermott said.
Defense attorneys have attempted to convince the jury that Travolta's attorney came to the Bahamas to "set up" their clients. Murrio Ducille, who represents Bridgewater, on Friday said to Travolta's attorney, "you came to the island with evil in your heart."
Earlier in the trial, Travolta testified that his son was found unresponsive by a nanny at their home on Grand Bahama Island, where the family was spending their New Year's holiday. Travolta said he initially told the ambulance driver to rush them to an airport where his private jet was parked and where Travolta, who is a pilot, planned to fly his son to a West Palm Beach, Florida, hospital instead of driving him to one in nearby Freeport.
Filed under: John Travolta • Justice