By Alan Duke
CNN
Note: Rabbi Shmuley Boteach is scheduled to appear on Larry King Live Tuesday, 9pm
LOS ANGELES, California (CNN) - Michael Jackson feared his father so much he would faint or vomit sometimes when his father entered the room - even when the pop singer was an adult, according to a book written by a former Jackson confidant.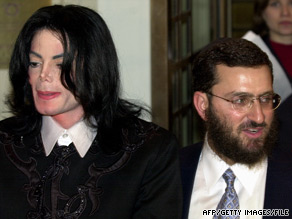 "The Michael Jackson Tapes" includes Jackson talking about his fear of growing old, his relationship with children, his friendships with Madonna and Brooke Shields, and his remarkable shyness around people that made his surround himself with mannequins.
Jackson opened up to Rabbi Shmuley Boteach for 30 hours of interviews, which were taped nine years ago and intended for a book Jackson wanted written, Boteach said.
"He was trying to reclaim his life," Boteach said Friday in an NBC "Today Show" interview.
Jackson, who died on June 25 of what the coroner found to be a deadly combination of drugs, "lost the will to live, I think he was just going through the motions of life toward the end," Boteach told NBC.
CNN has not independently confirmed Jackson's quotes in the book, but Boteach was known to be a spiritual adviser to Jackson for several years beginning about 1999.
Ken Sunshine, spokesman for the family, including the singer's father, Joe, issued a statement on the book. "We are not going to dignify this with a comment," he said.
The book was not published during Jackson's lifetime because of the pop star's child molestation trial, which ended with an acquittal in 2005, the author said. The author said Jackson's arrest ended any interest in a book about him.
"I don't want to grow old," Jackson is quoted as saying in one interview with Boteach.
"When the body breaks down and you start to wrinkle, I think it's so bad," Jackson said.
Jackson talked to Boteach about why he was drawn to children, especially those who were sick.
"I love them. I love them," he said.
Helping children enjoy their childhood is his mission, Jackson said.
"I feel that this is something really, really in my heart that I am supposed to do, and I feel so loved by giving my love, and I know that's what they need," he said.
Filed under: Larry King Live • Michael Jackson