by Kyle Anderson in Music via MTV.com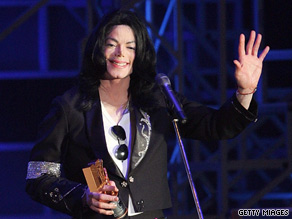 ...The first highlight of the event — which cost anywhere from $2,200 to $11,500 just to get in the door — was the sale of a pair of Swarovski crystal-studded boots that were owned by the late Michael Jackson. Janet's brother had planned on wearing the footwear on stage at London's O2 Arena during his planned residency there, and they fetched a total of $14,650.
The second highlight came later in the evening, when Kanye West (with girlfriend/model Amber Rose by his side) got into a bidding war with Diesel designer Renzo Rosso over a custom-made leather jacket produced by the DSquared2 label. Rosso ultimately prevailed with a winning bid of $52,740. (Luckily, Rosso didn't have to take the stage to formally accept the jacket.)
Janet Jackson has been in Milan for a week working at a number of events for amfAR. But she hasn't forgotten about her day job, as her new single "Make Me" is now for sale via download. Meanwhile, sales are already through the roof for "Michael Jackson's This Is It," the film culled from the hours of footage recorded during rehearsals for Michael's O2 residency. That film comes out on October 28 for two weeks only — and tickets are clearly going fast.
Filed under: Larry King Live • Michael Jackson