Editor's note: Yusra Tekbali is an Arab-American freelance journalist. Born in Woodland, California, to Libyan parents, she graduated from The University of Arizona with degrees in journalism and Near Eastern studies.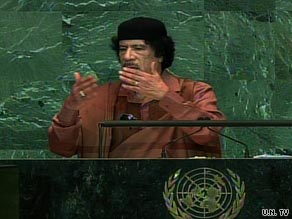 (CNN) - On Wednesday, Libyan leader Moammar Gadhafi spoke before the U.N. General Assembly for the first time in his 40-year rule - apparently making up for lost time with a nearly 100-minute speech, which dramatically exceeded the allotted 15 minutes.
Gadhafi stuck to his usual enthusiastic manner of delivery, without relying on teleprompters. In some instances he became visibly overheated, ad-libbing and saying things he probably wouldn't have said had he stuck to a speechwriter's text.
Gadhafi's advisors should have helped him prepare a speech that would have been more appealing to the American people. In it, he should have addressed Libya's improving relationship with the U.S., including several business developments and diplomatic exchanges, as well as Libya's changing economy and society.
Instead of saying that Obama should "rule forever," Gadhafi should have praised the president for ushering in a new era and embracing the Arab world, which includes Libya. Gadhafi, who was warned by the U.S. not to gloat about the release of the Libyan convicted in the Lockerbie bombing, entirely avoided it and mentioned everything else in his eclectic, over-the-top speech. He called for a reinvestigation of Martin Luther King Jr.'s death, demanded Africa's past colonizers pay $7.7 trillion in compensation, and even suggested swine flu was created in a military laboratory.
Filed under: Larry King Live