While some criticism targeting President Obama is racially motivated, the fight over health care isn't, former President Bill Clinton said on LKL last night.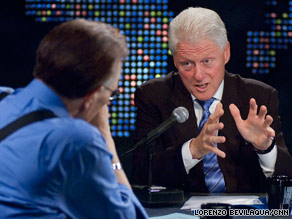 "I believe that some of the right-wing extremists which oppose President Obama are also racially prejudiced and would prefer not to have an African-American president," Clinton told CNN's Larry King in a wide-ranging interview aired Monday evening. "But I don't believe that all the people who oppose him on health care - and all the conservatives - are racists. And I believe if he were white, every single person who opposes him now, would be opposing him then."
Clinton discussed a variety of issues facing the Obama administration - from health care to the war in Afghanistan - on the eve of the fifth annual meeting of the Clinton Global Initiative.
Regarding race, the former president was referring to an outburst from Rep. Joe Wilson, a South Carolina Republican, who shouted, "You lie," at Obama during the president's joint address to Congress, and also former President Jimmy Carter's assessment that racism is an obstacle for the current president.
"While I have devoted my life to getting rid of racism, I think this [health care] is a fight that my president and our party - this is one we need to win on the merits," Clinton said.
On the Arab-Israeli conflict - which Clinton tried to address during his time in the White House - the former president said it's an issue that first has to be addressed by the Palestinians and the Israelis. Obama has set up meetings with leaders from both sides this week as the U.N. General Assembly meets in New York.
"First, it's more up to them than it is to President Obama," Clinton said.
Filed under: Bill Clinton • Larry King Live