By Jan Scruggs, founder and president of the Vietnam Veteran's Memorial Fund
When it is built, the Education Center at The Wall will show photos of the more than 58,000 men and women who died or remain missing from the Vietnam War.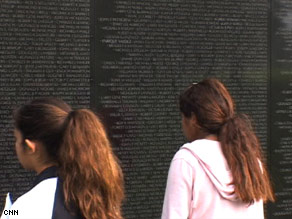 The Education Center is a learning facility that will be built near the Vietnam Veterans Memorial on the National Mall. It will be built through the generous support of the public, corporations and veterans organizations. But the Vietnam Veterans Memorial Fund, which is leading the drive to build the Center, also needs photos.
So it launched a National Call for Photos on Sept. 17, asking people throughout the United States to contribute their photos of friends and loved ones on The Wall.
Serving in Vietnam in 1969-70 was a life-changing experience for me. When I came home, I didn't want to forget the people I served with—especially the ones who didn't make it home. So I led the drive to build the Vietnam Veterans Memorial, and one of the stipulations was that it had to contain all of the names of those we lost. I wanted to make sure we as a nation remembered them.
Now, we have the opportunity to put faces with those names. What better way to educate our future leaders about the price of war than to show the pictures and tell the stories of those who bravely served and ultimately died as a result of war?
The Memorial Fund has partnered with FedEx Office in the photo drive. People can bring their photos to any FedEx Office location and have them scanned and submitted. Or they can do it from their home computers. Visit www.VVMFCenter.org for details.
Filed under: International • Vietnam