By Karl Rove, Former Advisor to President George W. Bush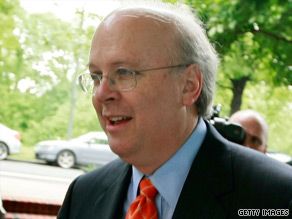 Millions of Americans watched President Barack Obama's speech last night to a joint session of Congress. Much of it was familiar, having been delivered in at least 111 speeches, town halls, radio addresses and other appearances on health care. But his most revealing remarks on the topic came on Monday, at a Labor Day union picnic in Cincinnati.
There Mr. Obama accused critics of his health reforms of spreading "lies" and said opponents want "to do nothing." These false charges do not reveal a spirit of bipartisanship nor do they create a foundation for dialogue. It is more like what you'd say if you are planning to jam through a bill without compromise. Which is exactly what Mr. Obama is about to attempt.
Team Obama is essentially asking congressional Democrats to take a huge gamble. The White House is arguing that ramming through a controversial bill is safer for Democrats than not passing anything. This is based on the false premise that the death of HillaryCare is what doomed Democrats in 1994. Mr. Obama told a reporter in July that the defeat of HillaryCare "Helped [Republicans] regain the House." Former President Bill Clinton echoed that thought recently by saying "doing nothing" today is "the worst thing we can do for the Democrats."
Actually, attempting to pass HillaryCare is what brought down the party. Voters rejected a massively complicated, hugely expensive government takeover of health care and the Democrats who pushed it.
In reality, it is riskier to be at odds with where Americans are than just standing by as an unpopular proposal goes down. The problem for Democrats is they are scaring voters by proposing a takeover of health care that spends too much money, creates too much debt, gives Washington too much power, and takes too much decision-making away from doctors and patients.
Filed under: Karl Rove • Politics is King • President Obama