Bone fragment found near the California home where Jaycee Dugard is said to have been confined for 18 years is "probably human," a sheriff's spokesman said Tuesday.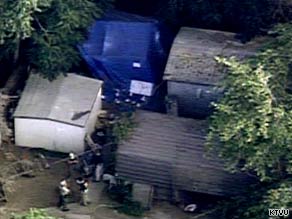 Investigators said they found the bone last week on a neighbor's property in an area that Dugard's accused captor and rapist, Philip Garrido, had access to.
The fragment, which was analyzed by an outside expert, will go on to the state DNA lab for testing, Jimmy Lee, director of Public Affairs for the Contra Costa County's Sheriff's Office said in an e-mail.
"The expert has determined that the bone fragment found in the backyard of Garrido's neighbor is probably human," Lee said.
"We will be requesting the state to see if it can develop a DNA profile on the fragment. It should be noted that it is not uncommon to find Native American remains in Contra Costa County," he said.
Garrido and his wife, Nancy, have pleaded not guilty to 29 felony charges, including rape and kidnapping, stemming from Dugard's disappearance when she was 11 years old.
Filed under: Crime • Jaycee Dugard • Justice