Janet Jackson opens up in October's issue of "Harper's Bazaar," her first interview after the death of her brother, Michael.  Here's a preview of the interview: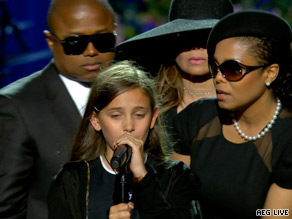 There had always been a powerful bond between Janet Jackson and her brother, Michael.
Perhaps this is why she says she hasn't watched television or read a newspaper in the two months since her brother's sudden death. "I'd, I'd just like to say that to you, Michael is an icon. To us, Michael is family," the pop star told Harpers Bazaar. "And he will forever live in all of our hearts." In her first interview since his death, she opens up about her relationship with Michael and their last day together, and how she's coped by immersing herself in a new album and book.
As a 14-year-old, it was Janet's job to take care of her superstar brother. "I would shop for him. I washed his clothes and cleaned his room. When mother would go out of town, she'd say, 'I'm leaving you in charge. Take care of Michael.'" She knew early on that her brother loved clothes that stood out. For the 25th Anniversary of Motown special, Michael grabbed his famous sparkly black jacket from his mother's closet. "If it was shiny, if it had any kind of bling, he loved it," Janet said.
Except for his shoes. He danced them down to the soles. "He would wear his shoes all the way down," remembered Janet. "His penny loafers would have huge holes in the bottom."
Filed under: Larry King Live • Michael Jackson