Michael Jackson's family and about 200 of their closest friends gathered on a hill Thursday evening for their final farewell to the pop singer, who died 10 weeks ago.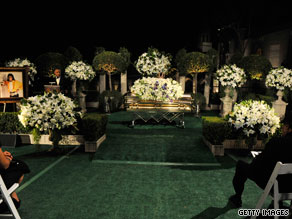 Jackson's burial may lay to rest some of the mystery and controversy that erupted with his sudden death on June 25.
His large family was divided over where the superstar's final resting place should be, but matriarch Katherine Jackson settled on a crypt inside the well-guarded and ornate Great Mausoleum at Forest Lawn cemetery in Glendale, California.
Thursday's service began 90 minutes past the announced start time, leaving dozens of celebrities - including Elizabeth Taylor - waiting in their seats for the 26 cars carrying the Jackson clan to arrive.
It began with Jackson's five brothers - each wearing a single sequined glove - carrying his flower-covered bronze casket onto the outdoor stage among six large bouquets of white lilies and white roses, along with green topiaries.
Filed under: Larry King Live • Michael Jackson