A California woman who turned up alive 18 years after being kidnapped at age 11 is reconnecting with her family after nearly two decades apart, her aunt said Thursday.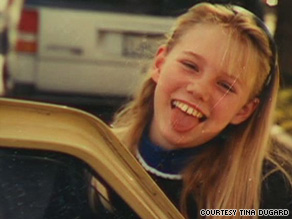 Police said Thursday that the man charged with abducting and raping Jaycee Lee Dugard had been accused of raping a 14-year-old in 1972, but those charges were dropped for unknown reasons.
"I think there's a good chance of that, yes," Antioch Police Lt. Leonard Orman said when asked whether he believed that other victims would be found.
Dugard is spending time in "a secluded place, reconnecting" with her mother and younger sister, said Jaycee's aunt, Tina Dugard, who spent time with them.
The two children born to her during her captivity are "clever, articulate, curious girls," she said.
"This is a joyful time for my family," she said. "Jaycee remembers all of us."
Jaycee Lee Dugard was kidnapped in 1991 from a bus stop near her home in South Lake Tahoe, California, and discovered last week. Authorities say a couple kidnapped her and raised her in a compound of tents and outbuildings in the backyard of their Antioch, California, home for 18 years.
Filed under: Crime • Jaycee Dugard • Justice • Larry King Live