Katie Callaway Hall trembled for four hours when she heard Phillip Garrido was arrested.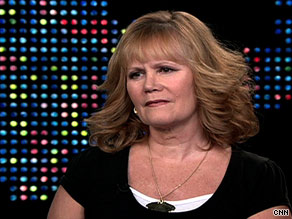 His name sent a flurry of emotion running through her mind.
"I screamed," she told LKL on Monday night. "I started screaming 'Oh my god, Oh my god, it's him.' "
She has thought about him every day since November 22, 1976 when he asked her for a ride at a supermarket in California, before handcuffing her, binding her and taking her to a mini-warehouse in Reno, Nevada, where he raped her.
Garrido was convicted for kidnapping and raping Hall, but was released after serving just over 10 years of a 50-year sentence. He was labeled a sex offender and put on lifetime parole.
"In many ways, the capture of Phillip Garrido has closed a chapter in my life," Hall wrote for a Larry King blog. "I don't have to hide anymore. I don't have to live every day of my life wondering if he is looking for me. I am finally free from the fear I have lived with since the day I learned he was paroled."
You can also click HERE to read Katie Callaway Hall's exclusive LKL Web commentery
Filed under: Jaycee Dugard • Larry King Live • Phillip Garrido