(CNN) - An 11-year-old California girl snatched from the street in front of her house in 1991 had two children with the man accused of taking her and lived in a secret backyard shed, authorities said Thursday.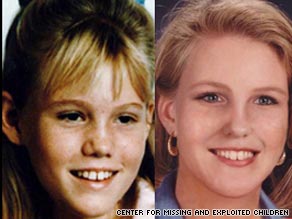 Jaycee Lee Dugard as she looked in 1991 and an age-progression image of what she might look like as an adult.
The 18-year mystery of what happened to Jaycee Dugard ended this week when a sex offender admitted to authorities that he abducted her.
Jaycee was abducted from South Lake Tahoe in June 1991, said Fred Kollar, undersheriff of El Dorado County. The case began to unfold when the sex offender, Phillip Garrido, 58, was stopped and questioned by campus police at the University of California at Berkeley.
With him were two children and a woman identified only as Alissa, who DNA tests later revealed was Dugard, now 29. The children were later determined to be Garrido's and Dugard's, Kollar said.
During questioning by a parole officer, Garrido admitted to having abducted Dugard and said the two children were his, said Scott Kernan, undersecretary for the California Department of Corrections and Rehabilitation.
Garrido and and his wife, Nancy, were taken into custody and held at the jail in Concord, California. An officer at the jail said the two had been booked and were ordered held on $1 million bail. They are now being held in El Dorado County, according to public records.
Phillip Garrido had been booked on charges of kidnapping, conspiracy and related offenses, the officer said. Nancy Garrido was booked on charges of kidnapping and conspiracy.
Phillip Garrido was paroled from a Nevada state prison June 8, 1988, and served time in federal custody and in Nevada for sexual assault, the corrections department said. The Department of Justice's Megan's Law page shows that the arrest involved a charge of forcible rape.
Dugard, now 29, is in "good health," the El Dorado County Sheriff's Department said.
Click here for more information about CUE Center for Missing Persons' efforts to locate missing individuals.
Filed under: Crime • Larry King Live