Canadian authorities said Thursday they talked with the woman believed to have helped reality TV star-turned-fugitive Ryan Jenkins check into the motel where he later took his own life.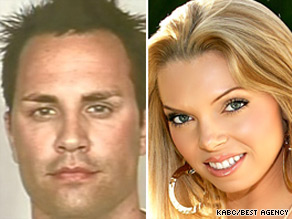 Jenkins slipped across the U.S.-Canada border while being pursued by police for the slaying of his wife, model Jasmine Fiore, authorities said. He was found hanged in his motel room Sunday in Hope, British Columbia, authorities said.
CNN has not independently confirmed reports that the marriage was annulled.
Cpl. Norm Massie, of the Royal Canadian Mounted Police, declined to name the woman, but said she could face charges for helping Jenkins enter Canada illegally.
"We know who that person is," Massie said. "They are cooperating with the investigation."
Canadian media interviewed eyewitnesses at the motel, who described a blond woman driving a silver PT Cruiser with Alberta license plates who helped Jenkins check into the motel.
Filed under: Crime • Justice • Larry King Live