From RadarOnline.com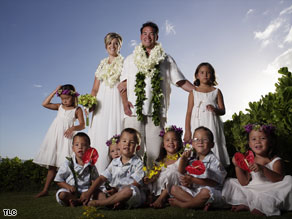 Jon Gosselin, speaking outside his Wernersville, Pennsylvania home Wednesday morning, said his wife Kate danced around questions during her Larry King Live appearance Tuesday night. Despite that shot at the mother of his eight children, Jon reserved his words toward a People Magazine feature in which Kate compared his behavior to that of a horny teenager.
"She didn't say anything," the 32-year-old reality TV dad said of Kate's appearance on Larry King Live. "She just kept on redirecting and avoiding the questions - so when Larry's ready for me, I can answer questions"
When asked about the new article in People, titled "Kate Strikes Back," Jon laughed and said, "Strikes back at what?"
READ MORE from Radaronline.com
Filed under: Jon & Kate Gosselin • Larry King Live