Dominick Dunne, the former Hollywood producer and best-selling author known for his Vanity Fair essays on the courtroom travails of the rich and famous, died Wednesday in New York city after a long battle with cancer.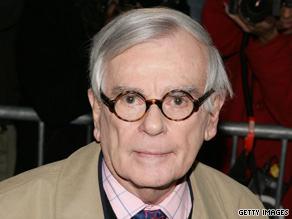 Dunne, who described himself as "a high-class Zelig," was 83.
Called "Nick" by his friends, Dunne was putting the finishing touches on his final novel, which he said he planned to call "Too Much Money," when his health took a turn for the worse.
He flew to Germany earlier this month for another round of stem cell treatments at the same Bavarian clinic where the late Farrah Fawcett was treated. He was hospitalized upon his return to New York, then sent home.
As a correspondent for Vanity Fair magazine, Dunne was a fixture at some of the most famous trials of our times - Claus von Bulow, William Kennedy Smith, the Menendez brothers, O.J. Simpson, Michael Skakel and Phil Spector.
He discovered his magazine writing career in his 50s, through personal tragedy - his daughter's murder.
Filed under: Larry King Live