If prostate cancer has affected you or someone you know, you'll want to tune in to Larry King Live Friday.  John McEnroe, Colin Powell, Joe Torre, and others join Larry for the hour, 9pm ET.
By Val Willingham
CNN Medical Producer
(CNN) - For 12 years, Georgia Dunston and Dr. Chiledum Ahaghotu have been trying to figure out why African-American men develop prostate cancer at an earlier age and are twice as likely to die from it than any other group in the United States.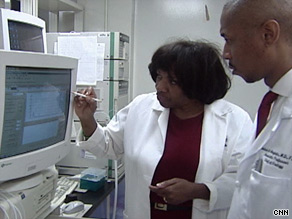 Doctors are looking to genes for answers as to why prostate cancer is so deadly among black men.
Although scientists have long suspected a genetic component, the link was never explored in depth before Dunston and Ahaghotu decided started their study.
In 1997, Dunston, Ph.D., the founding director of Howard University's National Human Genome Center, and Ahaghotu, a urologist, began the African-American Hereditary Prostate Cancer Study to study the family genes of black men with prostate cancer. By following the different generations, and tracking their health and genetic makeup, the scientists hoped to better understand why prostate cancer is so deadly in this population and whether the disease is primarily inherited or caused by environmental or lifestyle factors. Sound off: How can we close the disparity gap in healthcare for black Americans?
"We're looking for those individuals who can give us an indicator of what are the genes that are associated with that underlying cancer," said Dunston. "Because it's not a difference in the gene - the difference is whether you're born with it or it's caused by changes that develop later in life"
Don't Miss
Thirteen research centers across the country, including one at Howard University in Washington, recruited black men and their relatives - siblings, fathers, uncles, grandfathers, great-grandfathers from a total of 77 families - and recorded their medical history. With support from the National Institutes of Health and the National Human Genome Research Institute, AAHPC researchers have been sifting through family health records and looking at the participants' genetic makeup, through blood samples, to see whether there are common genetic mutations or markers that are linked to the disease.
Filed under: Larry King Live • Medical