From The Daily Beast's Gerald Posner:
Criminal investigations and probate court hearings this week underscore the medical and financial disaster that Michael Jackson became. And many of those roads lead to the pop superstar's bizarre year in the kingdom of Bahrain.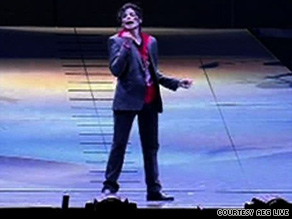 Michael Jackson's descent toward death could be pegged to any number of dates, but a sure one was June 13, 2005, the day he was acquitted of all charges in his child-molestation case. Within a week, he had bolted California for the oil-rich island nation of Bahrain, where his friendship with Prince Abdullah bin Hamad Al Khalifa, the 33-year-old second son of the king, began an odyssey of odd behavior that eventually ended up—as did many other post-trial Jackson relationships—in court, and raised more questions about the singer's state of mind and possible deepening drug use.
Jackson was encouraged to go to Bahrain to escape the crushing media scrutiny at the urging of his brother Jermaine, who had converted to Islam in 1989, after his own visit to Bahrain and Saudi Arabia and has business dealings there. At only 300 square miles, Bahrain is smaller than New York City and has just over 500,000 citizens. Beyond its capital of Manama, with its wide palm-tree-lined boulevards, modern high rises, and sprawling luxury malls, the country has a sleepy village ambiance.
READ MORE from THE DAILY BEAST
Filed under: Larry King Live • Michael Jackson