Griffin O'Neal, the son of Ryan O'Neal, paints a vivid picture of violence, drugs and sexual infidelity surrounding the actor.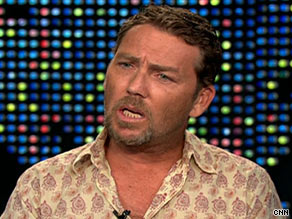 In an emotionally explosive interview with LKL last night, Griffin O'Neal claimed that:
• His father attempted to shoot him and injured Griffin's wife and him with a fireplace poker.
• Ryan was habitually unfaithful to his partner Farrah Fawcett, who died of cancer June 25.
• Ryan partied with Griffin's half-brother, Redmond, and said his father was responsible for Redmond's drug problems.
• Ryan didn't recognize his own daughter, Tatum, at Farrah's funeral and asked her for a drink.
The following interview has been edited for clarity and brevity:
Larry King: Was [Farrah Fawcett] a good friend?
Griffin O'Neal: She was a great friend. Yes. I came from a not-so-nice kind of a world. We were a kind of a battling and kind of crazy family. And she was so nice, I didn't trust her. ... And the crazy, sad part was that she stayed nice all the way to the end. And it broke my heart when I was not allowed in to say good-bye to her.
King: Well, how old were you when Ryan and her got together?
O'Neal: Thirteen, sir.
King: Were you close with your biological mother [Joanna Moore]?
O'Neal: My mother died back in '97. And, yes, my mother was the light of my life.
King: Were she and Farrah close?
O'Neal: They had met once. They had a lot in common, just because they were two lovely Southern belles.
King: You weren't allowed to attend the funeral at the cathedral. Why not?
O'Neal: I guess I'm a bad guy.
King: Who didn't let you attend?
O'Neal: Ryan didn't want me in. I call him Ryan now. I've had to let go of him as being my dad, not that he was ever really a dad. But he said, no, no Griffin. Tatum, Patrick, even my daughter was allowed in. It's OK. I said my good-bye to Farrah the day that she died. [Tatum is Griffin's sister, and Patrick is Griffin's half-brother, the child of Ryan and Leigh Taylor-Young.]
Check out MORE of the interview HERE
Filed under: Farrah Fawcett • Hollywood • Larry King Live