Former U.S. President Bill Clinton landed in North Korea early Tuesday on a mission to negotiate the release of two American journalists imprisoned there since March, according to the country's state news agency and a CNN source.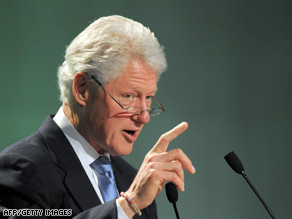 The North Korean news agency KCNA did not disclose the purpose of the visit in its three-line dispatch. But a source with detailed knowledge of the former president's movements told CNN late Monday that Clinton was going to seek the release of Laura Ling and Euna Lee, both reporters for California-based Current TV - media venture launched by Clinton's former vice president, Al Gore.
Meeting Clinton were the vice president of North Korea's Supreme People's Assembly, Yang Hyong Sop, and Kim Kye Gwan, the vice foreign minister, KCNA reported, adding that "a little girl presented a bouquet to Bill Clinton."
NOTE: Laura Ling's husband, Iain Clayton, was on LKL back in May and wrote this EXCLUSIVE LKL WEB COMMENTARY for us – read it HERE
Filed under: Bill Clinton • International • North Korea