*We'll be discussing this TONIGHT on LKL – what to you want to know?? Weigh in NOW!
Katherine Jackson's legal battle for some control of her son's estate returns to court Monday in front of the same judge who is expected to award her permanent guardianship of Michael Jackson's children.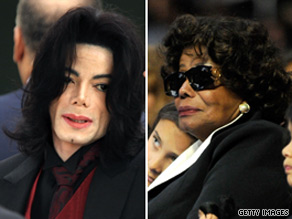 Dozens of lawyers are expected to pack a Los Angeles courtroom where a judge will consider the Jackson family matriarch's challenge of the lawyer and former music executive named as executors in Michael Jackson's will.
Katherine Jackson's lawyers filed a petition last week accusing the men who now control the estate of being "intent on keeping her in the dark" about deals they've made or are negotiating.
Londell McMillan, Jackson's lead attorney, raised questions about "a suspicious circle of relationships" involving John Branca, the singer's longtime personal attorney, and John McClain, a music industry executive and longtime friend.
Howard Weitzman, one of the lawyers for Branca and McClain, said they've provided "timely information to Mrs. Jackson's counsel regarding potential business opportunities for the Estate."
"Any inference that we have not been forthcoming in providing information to Katherine Jackson's attorneys is not accurate," Weitzman said.
Los Angeles Superior Court Judge Mitchell Beckloff gave Branca and McClain temporary control of the estate until Monday's hearing.
Filed under: Larry King Live • Michael Jackson