Bernard Madoff, the financier convicted for Wall Street's biggest investment fraud, was surprised his $65 billion Ponzi scheme was not uncovered sooner, he said in his first interview since entering prison.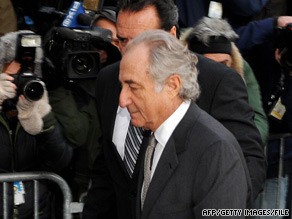 Madoff, the disgraced 71-year-old Wall Streeter who drew 150 years' prison time for the fraud, expressed remorse and talked candidly to a pair of lawyers suing him on behalf of investors, according to news reports of their jailhouse meeting on Tuesday.
San Francisco attorneys Joseph Cotchett and Nancy Fineman met with Madoff at the North Carolina prison where he was taken two weeks ago after pleading guilty, the Associated Press and ABC News reported on Tuesday. "There were several times that I met with the SEC and thought 'they got me,'" Madoff told Cotchett and Fineman, according to abc news.com. The Securities and Exchange Commission is now conducting an in-depth review of how they missed the fraud, drawing intense criticism. The results of their investigation are expected to be released in weeks.
Filed under: Bernard Madoff • Finance