Actress Kelly Preston, whose son Jett Travolta died earlier this year, will talk publicly in October about how she and her husband, actor John Travolta, have dealt with their grief.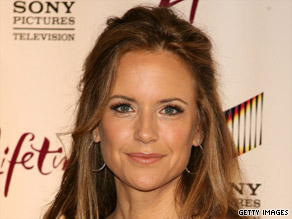 Preston, 46, will appear on a panel titled "Grief and Resilience" at a conference hosted by California first lady Maria Shriver, according to a conference spokeswoman.
Jett, 16, was found unconscious on January 2, while on vacation with his family in the Bahamas' West End. He was taken to a hospital where he was pronounced dead on arrival, local police said.
The Travolta family has not spoken publicly about the exact cause of Jett's death, but employees of the funeral home that handled the remains said in January the death certificate listed "seizure" as the cause of death.
The family has remained out of the public eye since his death, only issuing a few written statements.
When his latest movie, "The Taking of Pelham 123," was released last month, John Travolta did not take part in the publicity tour to promote the movie, instead issuing a short statement saying his family needed "additional time to reconcile our loss."
Filed under: John Travolta