Via E! Online by Breanne L. Heldman and Ken Baker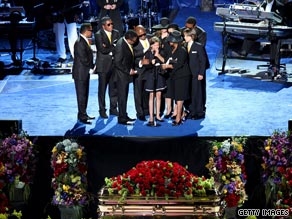 Millions worldwide watched online coverage of Michael Jackson's funeral service in Los Angeles.Check out E! online's exclusive...
Michael Jackson's departure from the Staples Center Tuesday didn't require the involved level of hocus-pocus that's been speculated.
E! News has learned exclusively how the star's body disappeared from the giant venue undetected by the media…and all it took was an underground tunnel!
A source tells E! News that after the service, security moved the golden casket through an underground tunnel that connects the Staples Center to the Nokia Theatre. The tunnel—typically used by maintenance and food service workers and occasionally talent—runs beneath Chick Hearn Court, where hundreds of media were encamped following the ceremony.
La Toya, Rebbie and Janet Jackson used the secret passageway when they went across the street to thank the fans at the Nokia Theatre.
M.J.'s body was loaded into a van at an L.A. Live loading dock and was transported to refrigerated mortuary storage at an undisclosed location.
Filed under: Larry King Live • Michael Jackson