Michael Jackson's father says he is concerned about the last moments of his son's life and about the personal physician who found the pop icon unconscious at the singer's estate.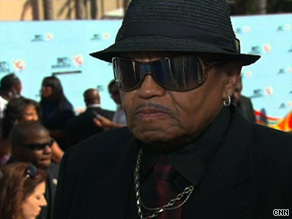 "I have a lot of concerns," Joe Jackson told CNN from the red carpet leading up to the BET Awards ceremony Sunday night. "I can't get into that, but I don't like what happened."
Michael Jackson's personal physician, who was questioned extensively by investigators over the weekend, found the singer not breathing in bed when he entered the singer's estate last week, according to the law firm representing the doctor.
However, Jackson did have a slight pulse when Dr. Conrad Murray discovered him Thursday, and Murray tried to resuscitate the singer as he awaited paramedics, a representative with the law firm of Stradley, Chernoff and Alford law firm in Houston, Texas, told CNN Sunday.
Attorney Edward Chernoff is representing Murray. The law firm said reports that Murray injected Jackson with powerful painkillers, such as Demerol or Oxycontin, were false.
Filed under: Larry King Live • Michael Jackson