From street corners, buses and subways to phone calls, e-mails, text messages, online posts and tweets, people around the world commented, pondered, and paid tribute to pop legend Michael Jackson, who died Thursday afternoon in Los Angeles.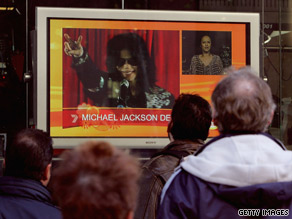 Around midnight at London's Leicester Square, as news of Jackson's death spread, Luis Carlos Ameida and his friends were surrounding a car listening to the star's music.
Ameida said he'd gotten tickets to see Jackson at his "This Is It" concerts beginning on July 13 in London.
"From a young age, you know, I used to have the video game," said Ameida. "I used to have the white suit, and I'd wear it on my birthday. I used to moonwalk ... I remember my mum used to send me to lessons to be like Michael Jackson. And when I heard the news, I had tears in my eyes because of that connection I had because of all the songs he used to play."
In Glastonbury, southern England, where the world's largest music festival was to kick off Friday morning, initial rumors and then confirmation of Jackson's death added to confusion and then shock among festival goers.
"As I was walking back through the crowd it was the word on everyone's lips," Sally Anne Aldous, 29, told CNN over the phone.
You can see some of the tributes HERE – and you can pay tribute to "The King of Pop" on the LKL blog – just leave us a comment.
Filed under: Breaking News • Larry King Live • Michael Jackson