(The Frisky) So, let's talk infidelity. Many ladies want to know why it is men cheat.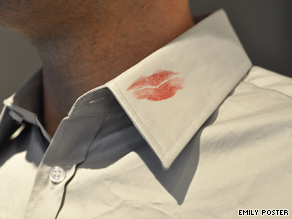 And here's what you want to hear, straight from the talk-hole of the testosterone enabled: men cheat because we are faithless, miserable dogs.
We are backstabbing, silver tongued two-faces who stalk any smooth pair of getaway sticks in a short black cocktail dress that happens to saunter into our lusty field of vision.
Men are horny wolves in fluffy sheep's clothing who delight in looking into your eyes and lying. Breaking hearts is our middle name. Why, at any given moment, while you're gabbing to your girlfriends about flowers purchased, omelettes made, sweet words whispered, we're picturing the nearest woman under the age of 25 in a sheer bikini, riding a mechanical bull.
We are just hopelessly addicted to that "new car smell." We love to make you miserable in our pursuit of total hotness, your fickle happiness not our concern.
And that's just part of it. If you want to blame someone for our cheating ways, blame evolution! We are hardwired to hunt, and to share our wicked cool genetic code with a world that demands that we do! The universe conspires to compel us to pursue that which retreats.
See, we cheat because we're cavemen, and our half-gorilla brains demand we spread as much of our seed over as much fertile ground as possible to make sure that our little caveboys have the chance to grow up and do likewise. And we do this quickly, mind you, because you never know when a woolly mammoth will shish kabob us on one of their mighty tusks. It's not our fault. It's biology, genetics, science! How can you question science? Without it, the curling iron would never have been invented!
Filed under: Commentary • Larry King Live