Farrah Fawcett, the blonde-maned actress whose best-selling poster and "Charlie's Angels" stardom made her one of the most famous faces in the world, has died. She was 62.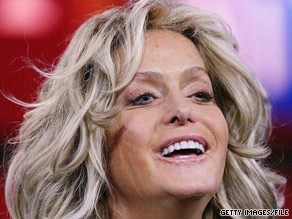 Fawcett, who checked into a Los Angeles, California, hospital in early April, had been battling anal cancer on and off for three years.
Ryan O'Neal, Fawcett's romantic partner since the mid-1980s, recently told People magazine that the sex symbol was declining.
"She stays in bed now. The doctors see that she is comfortable. Farrah is on IVs, but some of that is for nourishment. The treatment has pretty much ended," he said in a story posted May 7.
Fawcett's cancer journey has been documented in a television special partly shot by the actress. Fawcett began shooting "Farrah's Story," by taking a camera to a doctor's appointment. Eventually, the film expanded to include trips overseas in hopes of treating the cancer.
WE'LL BE COVERING THIS TONIGHT ON LKL – LEAVE A COMMENT FOR US HERE!!
Filed under: Entertainment • Hollywood • Larry King Live