by Wendy Murphy, contributor to the dailybeast.com
Officials in Pennsylvania recently revealed that they are investigating whether the popular cable-television show Jon and Kate Plus 8 violates child labor laws. The identity of the person who filed the investigation is confidential, but plenty of people who believe the complaint raises a legitimate concern about the Gosselin kids' well-being are not completely convinced the whole thing isn't just a publicity stunt. There's good reason to believe both things are true.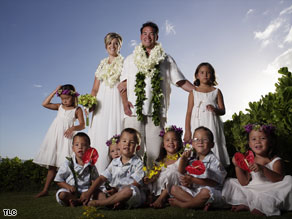 Most parents would never knowingly exploit their kids—but even the best parents will fail to see exploitation if they're looking for it through a lens clouded by serious money. It's hard to say whether Jon and Kate have crossed the line—but a few disturbing facts raise important questions.
The first episode this season was a banal bit about the sextuplets enjoying their fifth birthday. But past episodes have had some rather odd moments. Wait until the children get old enough to process the episode that showed them getting potty-trained. And how about when the kids we've seen picking their noses and having meltdowns become teenagers and have to deal with the cruelty of middle-school bullies with a lifetime of ammunition thanks to YouTube.
Mundane, sweet shows about large family life only last so long. The competitive series 18 Kids and Counting will surely get the ax unless one of the scary perfect Duggar cherubs pierces a body part, touches a body part, or at least mentions a body part real soon.
READ MORE from thedailybeast.com
Filed under: Entertainment • Kate Gosselin