Stephen Colbert left no doubt about his solidarity with American troops when he taped the first of four Comedy Central shows he'll produce in Iraq this week.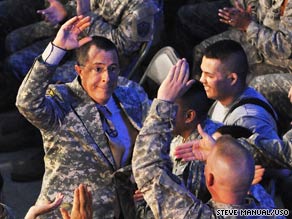 Colbert, wearing a business suit made of the same camouflaged material used for soldiers' desert uniforms, submitted to a regulation military haircut as hundreds of U.S. troops cheered wildly Sunday.
The comedian, who satirizes conservative TV pundits on his "Colbert Report," began his "Operation Iraqi Stephen: Going Commando" USO tour Sunday in the Baghdad headquarters of the U.S.-led military coalition in Iraq.
"It must be nice in Iraq, because some of you keep coming back again and again," Colbert said, joking about the multiple tour many troops have had in Iraq since the 2003 invasion. Some troops had accumulated enough frequent flyer miles to earn them a free ticket to Afghanistan, he joked.
Colbert told his guest, Gen. Ray Odierno, he felt "a little intimidated" by him, not because he was he top U.S. commander in Iraq, but because it felt like he was "interviewing Shrek." Odierno is an imposing bald figure at 6-feet, 5-inches tall.
Filed under: International • Iraq • Stephen Colbert