By Karl Rove, former senior adviser to President George W. Bush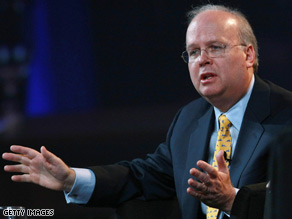 Tomorrow will likely bring more bad news for President Barack Obama on the number one issue for voters - the economy. The Labor Department's monthly job report will almost certainly show unemployment topping 9%, with a couple hundred thousand more jobs lost in May.
It will get worse before jobs get better. Congressional Budget Director Douglas W. Elmendorf recently predicted that unemployment will continue rising into the second half of next year and peak above 10%.
Mr. Obama has an ingenious approach to job losses: He describes them as job gains. For example, last week the president claimed that 150,000 jobs had been created or saved because of his stimulus package. He boasted, "And that's just the beginning." However, at the beginning of January, 134.3 million people were employed. At the start of May, 132.4 million Americans were working. How was Mr. Obama magically able to conjure this loss of 1.9 million jobs into an increase of 150,000 jobs?
As my former White House deputy press secretary Tony Fratto points out on his blog, the Labor Department does not and cannot collect data on "jobs saved." So the Obama administration is asking that we accept its "clairvoyant ability to estimate," and the White House press corps has let Mr. Obama's ludicrous claim go virtually unchallenged.
Read MORE of Rove's commentary from the Wall Street Journal
Filed under: Economy • Karl Rove • Politics