This is a LKL Web EXCLUSIVE by John Prendergast, co-founder of the Enough Project (www.enoughproject.org)
Pete Wentz of Fall Out Boy and the Invisible Children fellahs - my friends Jason, Laren and Bobby - are appearing on the Larry King Show TONIGHT.  They have a simple but important message to share with Larry and his audience.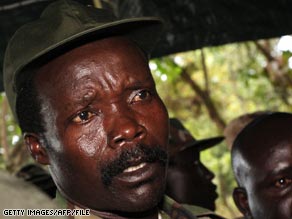 It turns out that one of the most brutal and longest running insurgencies in the world can be ended. The Lord's Resistance Army (LRA), which originated in Northern Uganda but has spread now to three other countries in Central Africa, is infamous for its tactics of abducting children as soldiers and sex slaves, and using rape and amputation as tools of war. Led by the mercurial, murderous and megalomaniacal Joseph Kony, the LRA has forced over two million people from their homes in the 22 years it has been churning and burning the forgotten corners of Central Africa.
The great news is that there is a solution. With an effective counter-insurgency strategy focused on apprehending Kony or otherwise removing him from the battlefield, an end could be reached to this real life horror film. If Kony were neutralized, the LRA would fall apart quickly. This is very similar to rebellions in Angola and Sierra Leone, which collapsed when their leaders were either killed or arrested.
The U.S. has a role to play in this. We can help prepare the government armies in the Central African region to carry out a more effective strategy for going after Kony and protecting the civilian population - particularly kids - from reprisals by the LRA. Senators Feingold and Brownback have just introduced in the U.S. Senate the Lord's Resistance Army Disarmament and Northern Uganda Recovery Act (S. 1067). The House of Representatives bill is H.R. 2478. Readers should write to their representatives (http://www.enoughproject.org/special-topics/in-depth-look-LRA) & tell them to co-sponsor this bill.
There is an answer to one of the world's worst human rights tragedies, and we can all be part of the solution.
Filed under: Africa • International • LKL Web Exclusive