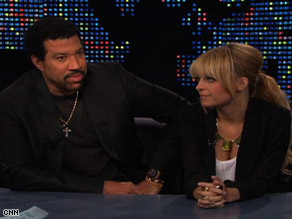 This is a LKL Web Exclusive written by Nicole Richie.  Nicole Richie and her father, Lionel Richie, will be our guests tonight!
The Richie-Madden Children's Foundation was a natural extension of our overwhelming need and desire to support our community, the world and participate in life in a meaningful way. As I was about to become a mom, Joel, my family and I decided to create an organization that would bring support to children in need and awareness of the issues they face. It is a wonderful opportunity for Joel and I to create a legacy for our family, to learn more about how we can have a positive impact in the world and to invite others to join us.
Joel and I launched the Foundation in December 2007 at a surprise baby shower for 100 moms-in-need at the Los Angeles Free Clinic. Our eyes were opened when we met moms at the Clinic who have to decide everyday between food, shelter and clothing – not only for themselves but also for their families. Even a clean blanket for their babies is a luxury. Being a new mom, nothing was more important than providing for my child, and I could only imagine the fear and frustration of not being able to do so. We wanted to help. Close to $200,000 in products were donated by sponsors for the event and were shared with these families.
Inspired by the launch event, one of our next projects in 2009 will be to develop a national baby registry called "4EveryBaby" that will enable shoppers to donate new baby products to low-income families.
We've also been working with Beyond Shelter in Los Angeles, which provides housing for formerly homeless families. We wanted to make sure that these children experienced some of the joys of childhood and began the fundraising text message campaign "Text CHILD to 90999" with all proceeds to be used to build a playground at Beyond Shelter. The campaign was the first of its kind to reach more than 3,000 donors from every state in the country. We matched the donations dollar for dollar and are pleased to announce that the playground will break ground this summer.
Our bond with the children from Beyond Shelter is solid and life-changing. We've had a holiday party for them and their families at Paramount Studios and a New Year's trip to Magic Mountain. Through The Richie-Madden Children's Foundation, we hope to be an ever-growing presence in their lives.
Most recently, Joel and I gathered our friends and Foundation supporters to join us in supporting UNICEF's TAP project. TAP strives to bring clean drinking water to children in need across the world. We were successful in raising over $100,000 for UNICEF and the RMCF–enough to build 150 wells, providing water for tens of thousands of children.
I've also joined the Environmental Media Association's Young Hollywood Board on behalf of the Foundation and participated in the launch of their Organic Gardens program to bring fresh produce to Los Angeles area schools. This hands-on program teaches children and teens the importance of healthy eating and caring for the environment.
Our goal is to affect the lives of children in need in meaningful and life-changing ways. Together, with our families, we hope to raise awareness and inspire others to get involved. Through The Richie-Madden Children's Foundation, we hope to achieve ever-lasting, positive change.
To support The Richie-Madden Children's Foundation
–Text "CHILD" to "90999" from your mobile phone. Each text is a $5 donation charged to your phone bill. 100% of your donation supports the work of The Richie-Madden Children's Foundation. Remember to reply "YES" to confirm your donation. You can opt-out at anytime from receiving messages from The Richie-Madden Children's Foundation.
–Visit www.richiemaddenfoundation.org
Filed under: Larry King Live • LKL Web Exclusive • Nicole Richie