By Karl Rove, former Senior Adviser to President Bush
Barack Obama inherited a set of national-security policies that he rejected during the campaign but now embraces as president. This is a stunning and welcome about-face.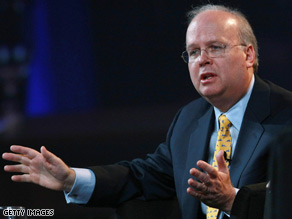 For example, President Obama kept George W. Bush's military tribunals for terror detainees after calling them an "enormous failure" and a "legal black hole." His campaign claimed last summer that "court systems . . . are capable of convicting terrorists." Upon entering office, he found out they aren't.
He insisted in an interview with NBC in 2007 that Congress mandate "consequences" for "a failure to meet various benchmarks and milestones" on aid to Iraq. Earlier this month he fought off legislatively mandated benchmarks in the $97 billion funding bill for Iraq and Afghanistan.
Mr. Obama agreed on April 23 to American Civil Liberties Union demands to release investigative photos of detainee abuse. Now's he reversed himself. Pentagon officials apparently convinced him that releasing the photos would increase the risk to U.S. troops and civilian personnel.
Read more of Rove's commentary at the Wall Street Journal
Filed under: Karl Rove • President Obama