By Bill Maher, host of HBO's "Real Time with Bill Maher"
Stop believing you can solve your problems by electing a superhero. The skills they bring to problem-solving are different.For example, when Spider-Man catches someone robbing a bank, he knocks the guy through an armored car. Whereas President Obama writes them a check.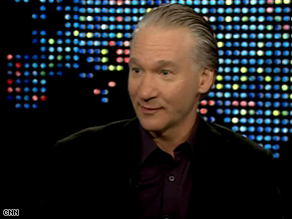 Here in California, we experimented with making an action hero our leader. He was going to build roads and schools, cut taxes and balance the budget. How? Simple. Because he was a hulking man-monster who could bend lampposts and have sex with a Kennedy and live.
Five years ago, Arnold Schwarzenegger was handsome, smiling Gov. Arnold. Now, it's Arnold as the Terminator with half a face.
Read More of Maher's column from the LA Times
Filed under: Bill Maher • Politics