No matter who is crowned the next American Idol on Wednesday night, season eight has already been one for the books.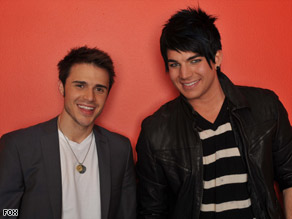 After a wild season that has included emotional breakdowns from almost-finalists, a comedian/singer who almost crashed the top 13 with his over-the-top shtick, the first top 13, a wild-card round, a judges' save and some serious bickering among the expanded judging panel, you'd think that whatever happens on the finale would be an anti-climax.
But thanks to the surprise exit of early favorite Danny Gokey last week, tonight's (May 19) sing-off between Kris Allen and Adam Lambert has injected some late-season drama into the still top-rated U.S. show. Host Ryan Seacrest said on Friday's "Larry King Live" that Tuesday's show will consist of a first round of the contestants' favorites from this season, followed by songs chosen by producer Simon Fuller and then a round in which they each sing this year's yet-unannounced winner's single.
TUNE IN THIS FRIDAY on LKL to see the newly crowned American Idol winner! Any predictions on who will win??  Let us know!
Filed under: American Idol • Entertainment • Larry King Live