By Steven Hayes
Well, that settles it. Maureen Dowd thinks Dick Cheney should shut up. Cheney, she writes, is "batty," has "numskull ideas," and "still loves torture."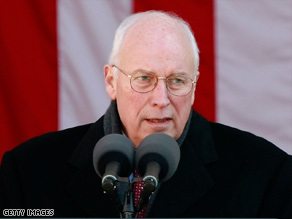 "Just as Jeb Bush and other Republicans are trying to get kinder and gentler, Cheney has popped out of his dungeon, scary organ music blaring, to carry on his nasty campaign of fear and loathing."
Cheney, she concludes, "has replaced Sarah Palin as Rogue Diva."
Oh, snap.
All of this, we are told, is hurting Republicans. "It is very difficult for me to understand how the continued presence of Dick Cheney in the public eye could be helping the Republican Party at all," wrote Joshua Tucker, a professor at New York University, on Politico in response to a question about whether Cheney is helping Democrats or Republicans.
Read MORE from the Weekly Standard
Filed under: Politics • Vice President Dick Cheney