NOTE: Tune in tonight to see the Tom Hanks and Ron Howard talking about their new movie "Angels & Demons"!!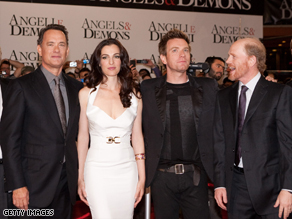 Actor Stellan Skarsgard says he's no big fan of Dan Brown's writing and accepted a role in "Angels & Demons" only after reading the script based on Brown's book.
"I think Dan Brown is a terribly bad writer, but he has cliffhangers after every chapter which makes you continue reading," Skarsgard told Swedish broadcaster SVT.
"It's like eating peanuts at a bar. You don't like them, but you keep on eating them anyway," he said. The Swedish actor, who plays the head of the Pope's Swiss guard in the movie, said director Ron Howard's script was significantly different from the book.
Read MORE from the Huffingtonpost
Filed under: Entertainment • Larry King Live