(CNN) - The accused terrorist who said he was tortured into making a false connection between al Qaeda and Iraq has died in a Libyan prison, human rights monitors said Tuesday.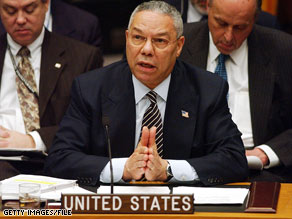 Colin Powell featured Ibn al-Shaykh al-Libi's claim in a presentation to the U.N. Security Council.
Ibn al-Shaykh al-Libi's allegation that Iraqi agents trained al Qaeda operatives in the use of chemical and biological weapons was "pivotal" to the Bush administration's case for the 2003 invasion of Iraq, said Stacy Sullivan, a counterterrorism adviser for the U.S.-based Human Rights Watch.
"He's a fairly significant figure in the counterterrorism world, and his testimony I would say provided the linchpin for the invasion of Iraq," she said.
Then-Secretary of State Colin Powell featured al-Libi's claim in the dramatic presentation he made to the U.N. Security Council just weeks before the invasion, citing it as evidence of ties between Iraqi dictator Saddam Hussein's government and the terrorist network responsible for the 2001 attacks on New York and Washington. Al-Libi recanted his account after the invasion, and no other evidence supported the story, the Senate Intelligence Committee reported in 2006.
Al-Libi's death was first reported by a Libyan newspaper over the weekend and confirmed by Human Rights Watch researchers Monday, Sullivan said. The newspaper report said he had committed suicide, and the group is asking Libya to conduct a "full and transparent" investigation into his death.
Filed under: al Qaeda • Iraq • Larry King Live