BY Cristina Kinon and Bill Hutchinson/New York Daily News
Tart-tongued comedian Joan Rivers was crowned Donald Trump's "Celebrity Apprentice" winner Sunday night, edging out poker-playing diva Annie Duke.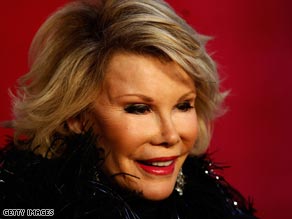 In the season finale of the hit NBC reality show, the 75-year-old Brooklyn-born Rivers showed heart, tears and "disgust" for Duke.
"You are a two-faced person," Rivers told Duke, 43, in a live face-to-face smackdown in Trump's boardroom, which was transported to the American Museum of Natural History on the upper West Side to cap the show's eighth season.
Duke fired back that Rivers would be fired from most Fortune 500 companies. She was especially miffed that the funny lady called her "worse than Hitler" and suggested her friends were in the mafia.
Filed under: Entertainment • Larry King Live