The parents of missing English toddler Madeleine McCann on Friday unveiled a digitally enhanced picture showing what she might look like today if she is still alive.Madeleine was 3 years old when she disappeared during a family vacation in Praia da Luz, Portugal, on May 4, 2007. Portuguese police closed the case last July without a resolution.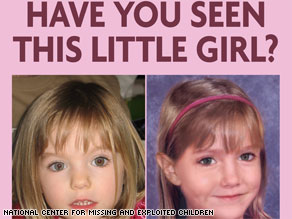 The picture, which her parents revealed in an interview on the "Oprah Winfrey Show" airing Monday, is a school-style photo showing Madeleine at 6 years old, with a pink headband and shoulder-length hair.
An expert at the National Center for Missing and Exploited Children created the image using photographs of Madeleine's parents, a spokesman for the center told Guardian.co.uk.
Kate and Gerry McCann also discussed how they're coping with the disappearance of their daughter.
Filed under: Crime • International